Electricity is dangerous!

If you're working near electricity, you need to plan ahead.
Each year, serious injuries or fatalities occur in Victoria as a result of equipment and machinery hitting powerlines.
You don't have to make contact with a powerline for it to be fatal. Electricity can jump if equipment or machinery gets too close to powerlines.
It is critical that safe distances are maintained from live electricity. If you are undertaking any work, you need to know the relevant guidelines to ensure your safety and the safety of those around you. Without the right precautions, not only do you risk electrocution, but you could damage the power network resulting in outages and financial liability.
No Go Zones

Established in 1999, the No Go Zone rules describe minimum distances that must be adhered to for people, equipment and machinery to work near our overhead and underground electricity assets.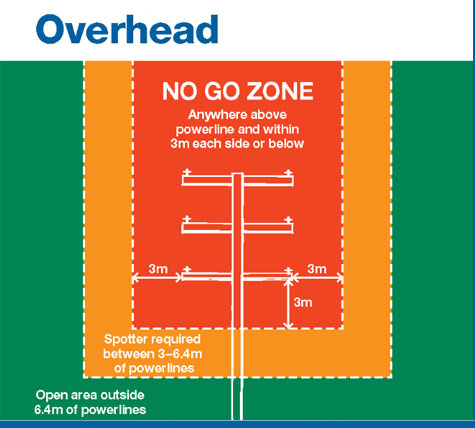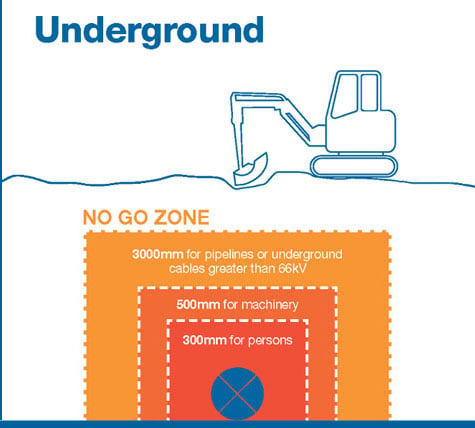 Potentially dangerous situations include painting your house, moving a boat with a mast, trimming trees or pruning orchards, operating mobile cranes or machinery near power lines, or using scaffolding.
Please refer to the Energy Safe Victoria and WorkSafe Overhead and Underground websites for more details.
Working near pole footings

Refer to WorkSafe's Guide to undertaking work near underground services, available here.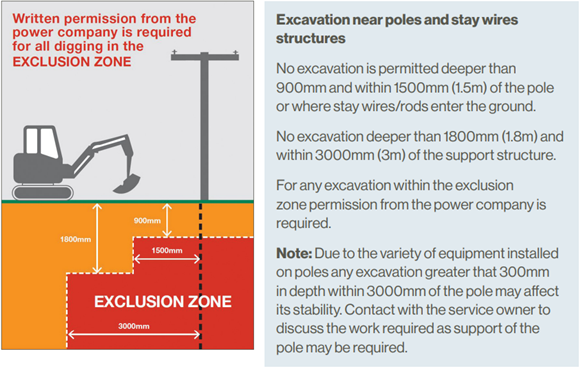 Earthing

Earthing is not limited to 66kV cable head poles.
A 66kV cable head pole will have a 3m earthing ring around the pole.
All other timber and concrete poles may have earthing conductor in the ground surrounding the pole. This may extend some distance from the centre of the pole, as we install as much conductor and as many earth stakes as necessary to achieve the required resistance.
All earthing is considered a HV asset and the No Go Zone rules apply.

Look Up and Live

Safely working near Jemena's electricity infrastructure in Melbourne's north west has just been made easier, with Jemena network information now available on the Look Up and Live app.
The app was developed originally by Energy Queensland and has now expanded to also include network information from NSW, Victoria and South Australia.

Site inspections

To organise a No Go Zone site inspection please contact us on 131 626.
This is a free service. Please do not risk your safety by working near electricity without first contacting us. If in doubt about whether you can maintain safe distances, always contact us.
At the site visit, we will discuss your planned work and the required safety measures. If you need to work within the No Go Zone, a Permit to Work will be required.
Permit to Work (PTW)

At the site inspection you will be provided with written advice as to whether a Permit to Work is required or not, and if any other precautions are required before work can commence.
It is an offence to encroach on a No Go Zone without a Permit to Work being issued.
If a Permit to Work is required, it will detail the conditions and methods you must adhere to in order to carry out your work. We'll only issue a permit either after we've visited and assessed your work site.
Common controls that may be implemented include:
The installation of warning devices on overhead lines
The installation of non-conductive tiger tails
The isolation of overhead or underground conductors and cables to eliminate electrical hazards
Spotters
A spotter is responsible for monitoring the activities of mobile plant and equipment when operating near overhead electric powerlines. A spotter must be used when working within 3.0m to 6.4m from overhead powerlines.
Spotters for overhead electrical lines shall have completed an endorsed spotter training course by a registered training provider and be competent in the following areas:
the design envelopes for the equipment/plant being used
the operation and uses of the equipment/plant being used
the hazards posed by overhead electrical assets.
Refer to the Energy Safe Victoria website for further information.
Visual warnings

Jemena can install visual warning devices on powerlines, to increase visibility and help prevent incidents occurring where works are occurring in the vicinity.
Please contact us on 131 626 to request installation of visual warning devices.

Dial Before You Dig

If you're digging, you need to know what's underneath you. You could hit an electrical cable, risking your safety, interrupting power to others, and being financially liable for damages.
To determine if there are underground assets, before breaking earth always contact Dial Before You Dig on 1100 or by visiting www.1100.com.au.
Refer to the Energy Safe Victoria website for further information.